Dear Friend,
I hope this correspondence finds you and your loved ones well in body and spirit.
In this week's Torah portion we read of the final plagues and the drama leading up to the redemption from ancient Egypt. Redemption- past and future- is a central theme of the Jewish faith. In fact, one may view most all Mitzvahs as an expression of redemption. For example, on Shabbat eve, women and girls kindle Shabbat candles, creating a warm and mystical ambiance. At that moment, those present are redeemed from the mundane workweek to a time of G-dliness and spirituality.
Another redemption Mitzvah: After G-d does a flyover/Passover, sparing the Jewish firstborn only, He commands -Shemot 13:13- (and I paraphrase) "And now you owe me one!". Consequently, there is a special mitzvah of "Pidyon Haben" redemption of the firstborn son. It is an age-old custom to place the redeemed baby on a pure silver tray during the ceremony, redeeming him from a Cohen for a token five silver shekel.
Just yesterday, our community participated in this special Mitzvah.
Some background: I have a handsome and gifted nephew and Raizy has a cousin, beautiful inside and out and gifted too. Two years ago, Raizy pitched the match and... "Mazel Tov", Fastforward to this week, the firstborn of this beautiful couple, baby Avraham turned one month old and had a Pidyon Haben. Now, the Chabad at Beekman-Sutton is in possession of the most exquisite Pidyon Haben tray- some four feet long and a good 20 pounds of pure silver- a generous gift by the Becker-Schultz family. We were honored that our community could participate in this beautiful ceremony by providing the tray on which the baby was carried. If you know of any family celebrating this special occasion, please let us know so we can share the tray with them.
At the end of this week, please accept my blessing for redemption, small miracles and big breakthroughs, personal and professional, in every aspect of your life. In the words of our revered and beloved Rebbe, "May we dance to the Moshiach redemption speedily in our days" Amen.
Warmly,
Rabbi Shmuel Metzger
PS The fascinating and original Chabad at Beekman-Sutton "Six Great Thinkers- One Thousand Years Of Jewish Thought " course begins this Tuesday, 7:30pm. Sign up for individual lectures or the entire course by clicking here.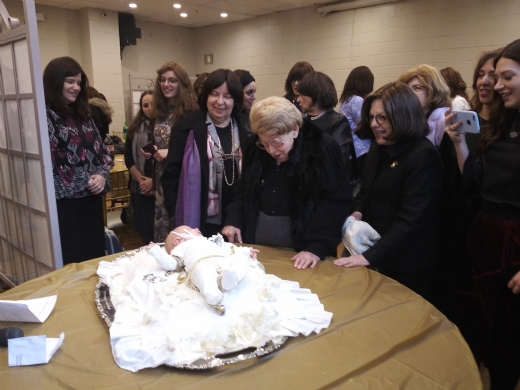 Pictured from right to left: Baby Avraham's mother, maternal grandmother, paternal great grandmother, and maternal great-great grandmother... may they all live and be well!